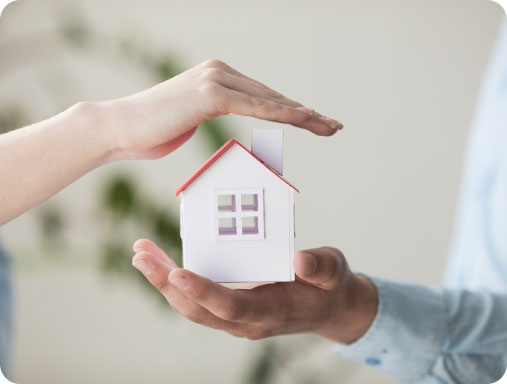 Home Loan
One of the priorities of life for a person is having his own house and hence it is one of the most important and emotional decisions of one's life. We understand the importance of buying a home and we do a special research-based approach while borrowing a Home Loan for our clients.
Borrowing pattern is very important in a home loan as the liquidity, loan repayment ability is not the same with all clients. We arrange various types of home loans wherein EMI can also be structured based on future expected income.
We strive to provide you with the best loan products and information so that you can get off on the right foot when it comes to shopping for your home loan. PMAY subsidy is also available on purchase on new house if a person fulfils the criteria of scheme. There are also income tax benefits in home loan principal and interest repayment amount.
Home Loan is provided mainly for below objectives
Loan for purchase of ready to occupy house
Loan for self-construction
Loan for purchase of residential plots
Balance transfer of existing home loan
Home renovation
Home loan highlights –
Tenure – 5 to 30 years
Rate of Interest 6.9% to 8% onwards
Affordable segment – 9% to 12%
Processing fee of Banks – 0.25% to 1% and 0.5% stamp duty.
Credit score of over 600 points or -1 cibil score can also be considered.
Pradhan Mantri Awas Yojna
"Home is the starting place of love, hope and dreams". Housing is a dream for weaker sections of the society but under this scheme your dream will turn to reality.
It basically targets the Middle Income Group (MIG), Lower Income Group (LIG) and Economic weaker section of society (EWS).
Eligibility Criteria for scheme:
The beneficiary family should not own a house either in his/her name or in the name of beneficiary family members.
The house to be purchased should contain female ownership mandatorily.(It is mandatory only in case of EWS/LIG but not in MIG-I and MIG-II)
Property should fall within 4452 statutory towns as per 2011 census and other areas as notified from time to time.
Below mentioned is the brief guideline of PMAY scheme-
| | | | |
| --- | --- | --- | --- |
| CRITERIA | EWS+LIG | MIG-I | MIG-II |
| Annual Income | Upto Rs. 6 Lakh | Rs. 6lakh-12 lakh | Rs. 12lakh-18lakh |
| Carpet Area | 322-645 sqft | 645-1290 sqft | 1290-1615 sqft |
| Woman ownership | Yes (Except for construction) | NA | NA |
| Max Loan Amt | Upto 6 lakh | Upto 9 lakh | Upto 12 lakh |
| Subsidy% | 6.5% | 4% | 3% |
| Subsidy Amt | Rs. 2.67 lakh | Rs.2.35 lakh | Rs. 2.3 lakh |
| Tenure of loan | 20 yrs | 20 yrs | 20 yrs |
| Property should be | 1 home of family | 1 home of family | 1 home of family |
| Loan purpose | Purchase/Self Construction/ Extension | Purchase/Self Construction | Purchase/Self Construction |
Moksha Financial Services Pvt Ltd will turn your dream into reality. It is the path which will lead to your own house. We always keep client requirements first & foremost and will get your requirement done at lowest affordable rates. So come to Moksha Finance to fulfill your dream.
Affordable Housing
'Housing is a question of will…and not a rocket science'.
A stable home in our lives is at the center of our happiness. It affects all aspects of our society. Nothing is better than going home and eating food with family.
Affordable housing refers to housing units that are affordable by that section of the society whose income is below the medium household income. It addresses the housing needs of the lower or middle income households.
In present scenario, home loan from a Bank or NBFC needs a lot of documentation and you have to fit in their criteria for getting your loan. But we at Moksha Financial Services Pvt Ltd will get your loan done on minimum documentation and lowest affordable rates.
As the government is aiming for "Housing for all by 2022" so we are also contributing in this mission by arranging affordable housing loans for lower and middle income groups.
Following cases can be covered under this scheme-
Cash salaried person
Self employed person with no Income tax Returns
Legal issues in property.
Acceptable issues in your CIBIL score.
As currently banks do not provide loan to a layman with above matters. But we have tie ups with NBFCs and Nationalised banks who provide timely loans at lowest affordable rates, on specific cases.